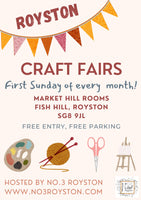 Royston Craft Fairs
Our Craft Fairs are held on the 1st Sunday of every month, from 10 - 2!

All handmade, all amazing with FREE entry and FREE parking throughout Royston!

Come and support us and grab yourself something crafted and special.

NEW FAT QUARTERS!
My amazing friend George taught me to use my sewing machine recently, so that I could line my crochet bags. To celebrate, I've bought some new fat quarters to add to the No.3 collection!
I LOVE the knitting/sheep ones!
£3 each or set of 5 for £12